Tech-Sharp Enviro Systems offers consultancy services of water, sewage and industrial effluent treatment and also air pollution control systems. The scope of work would cover - In plant survey for study of Process operations, identification of sources of effluent, measurement of effluent flow, collection and analysis of effluent samples, suggestion of treatment system, preparation of flow diagram/ layout, estimation of capital cost, recurring expenditure etc., complete.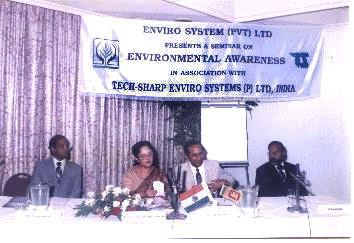 The above will be presented in the form of a feasibility report. We shall extend necessary facilities for getting consent from the Pollution Control Board for the scheme suggested by us.
Tech-Sharp Enviro Systems has offered consultancy services to various types of industries viz. Automobile, Chemical, Dairy, Food, Hotel, Metal Product, Printed Circuit Board, Pulp & Paper, Pharmaceuticals, Rubber, Surgical Cotton, Textile, Tannery, Tyre, Vegetable oil refinery and other industries.